Your bed might be the main furniture in your boudoir, but carefully chosen bedside tables can help to emphasise the beauty of your statement piece.
If you want to furnish your bedroom in a way that makes an impression, take the time to consider what bedside tables you plan to install.
Choosing the best bedside tables for your space will not only look aesthetically pleasing, but they can also provide much needed storage for your bedroom.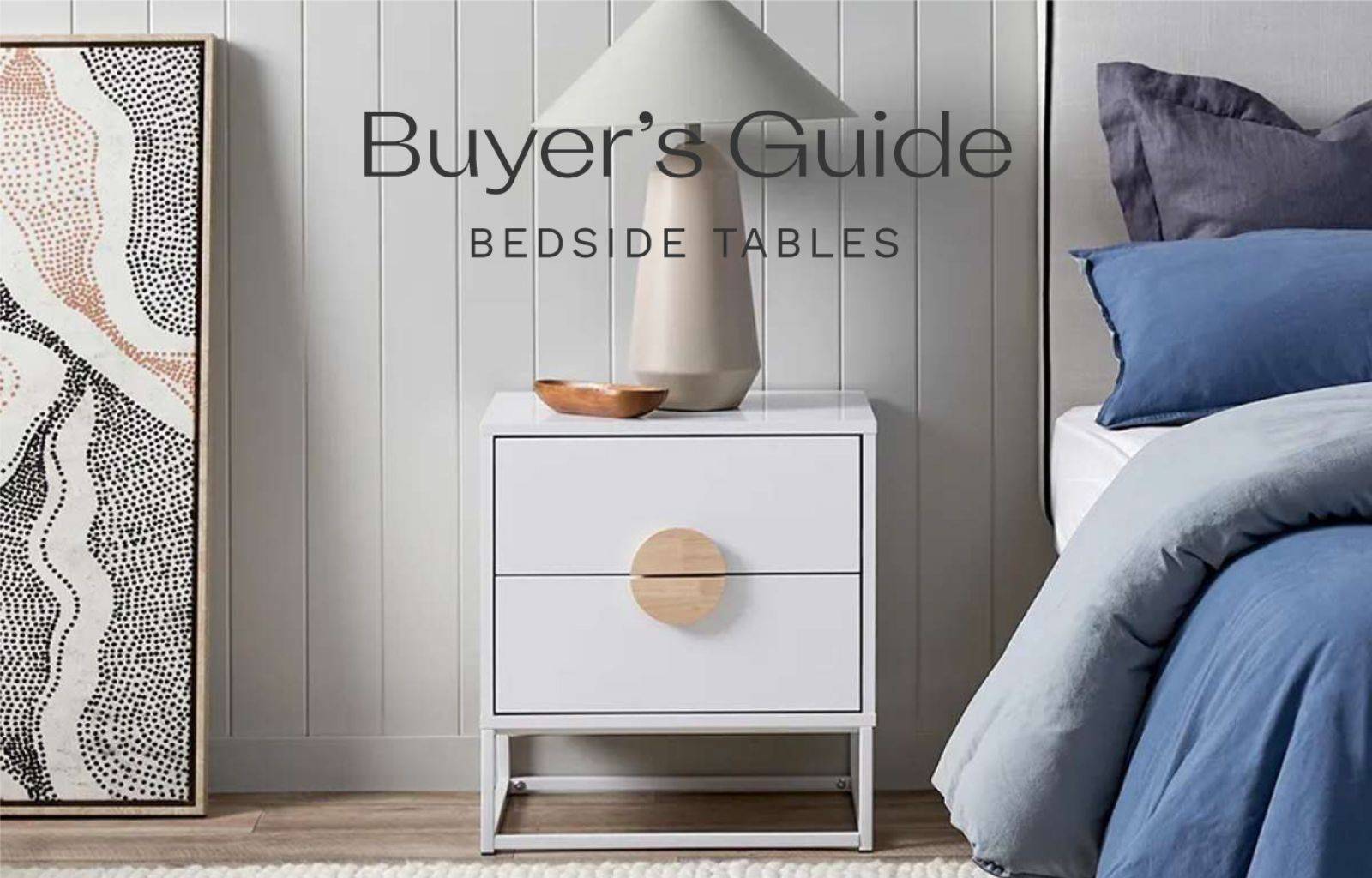 Consider who will be using the bedside tables
First things first – where do you plan to place your bedside tables? Will they be housed in your bedroom, a guest room, or your child's room? Or perhaps you are purchasing them to go into a room you rent out via Airbnb, or a bed and breakfast you manage.

The space will determine the type of bedside tables you might require. For example, if they are to go in your bedroom, they will probably need to be built to last and easy to clean as you will be using them every day. Therefore, wooden bedside tables might be a good option.

If you are to place them in a guest bedroom, which is only used a few times a year, then you could choose a different sort of material, such as a glass tabletop. This can be more challenging to clean than a wood surface, but if it's not used as frequently it shouldn't matter too much.

For a younger look, brightly coloured kids' bedside tables might be a stylish way to compliment the upbeat décor of your child's room.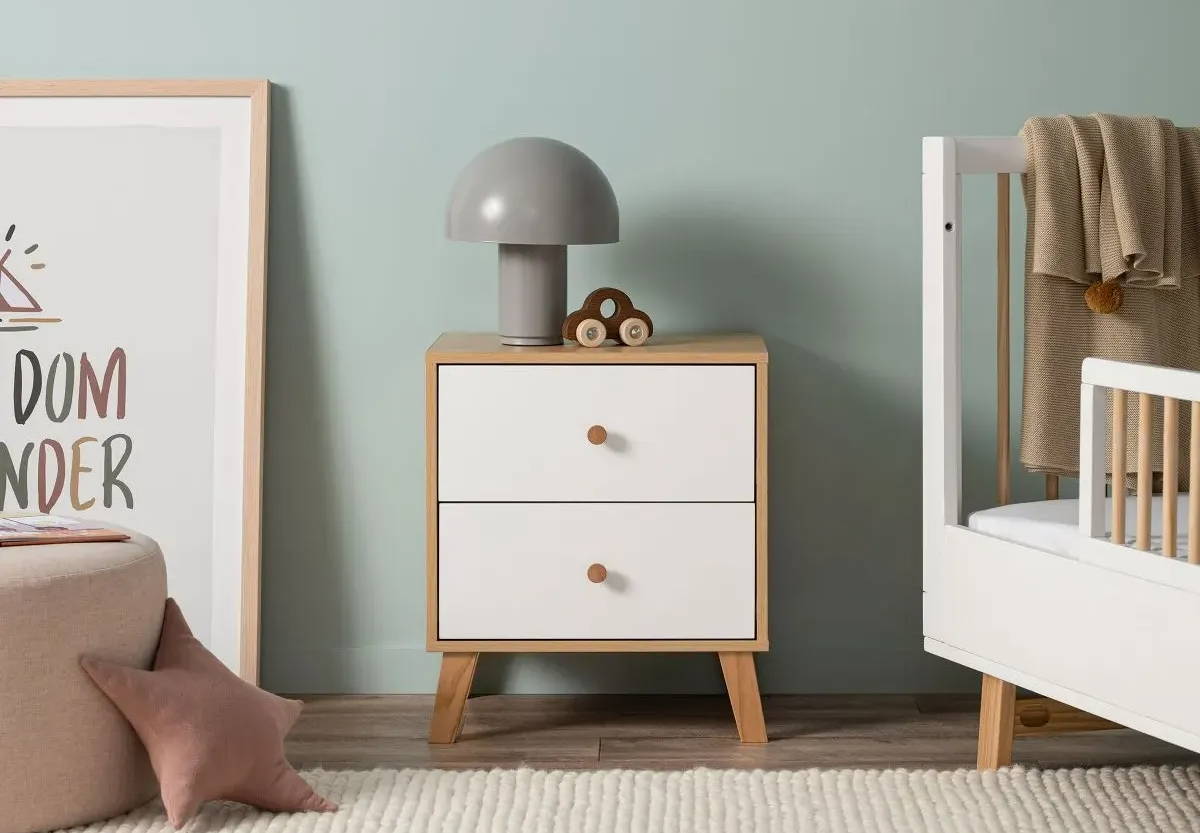 Of course, if the bedside table is for your child's room, then you possibly only need one bedside table, rather than a pair. And because of grubby little hands, you might want a bedside table made from a material that is easy to clean, such as metal. A locker-style bedside table in this instance is not only funky in a kid's bedroom, but a breeze to keep spotless.

If your bedside tables are for hotel, bed and breakfast or Airbnb guests, you will want the bedside tables to be stain-resistant. A veneer finish might work well for a hotel, bed and breakfast or Airbnb guest room. This finish is both durable and stain-resistant.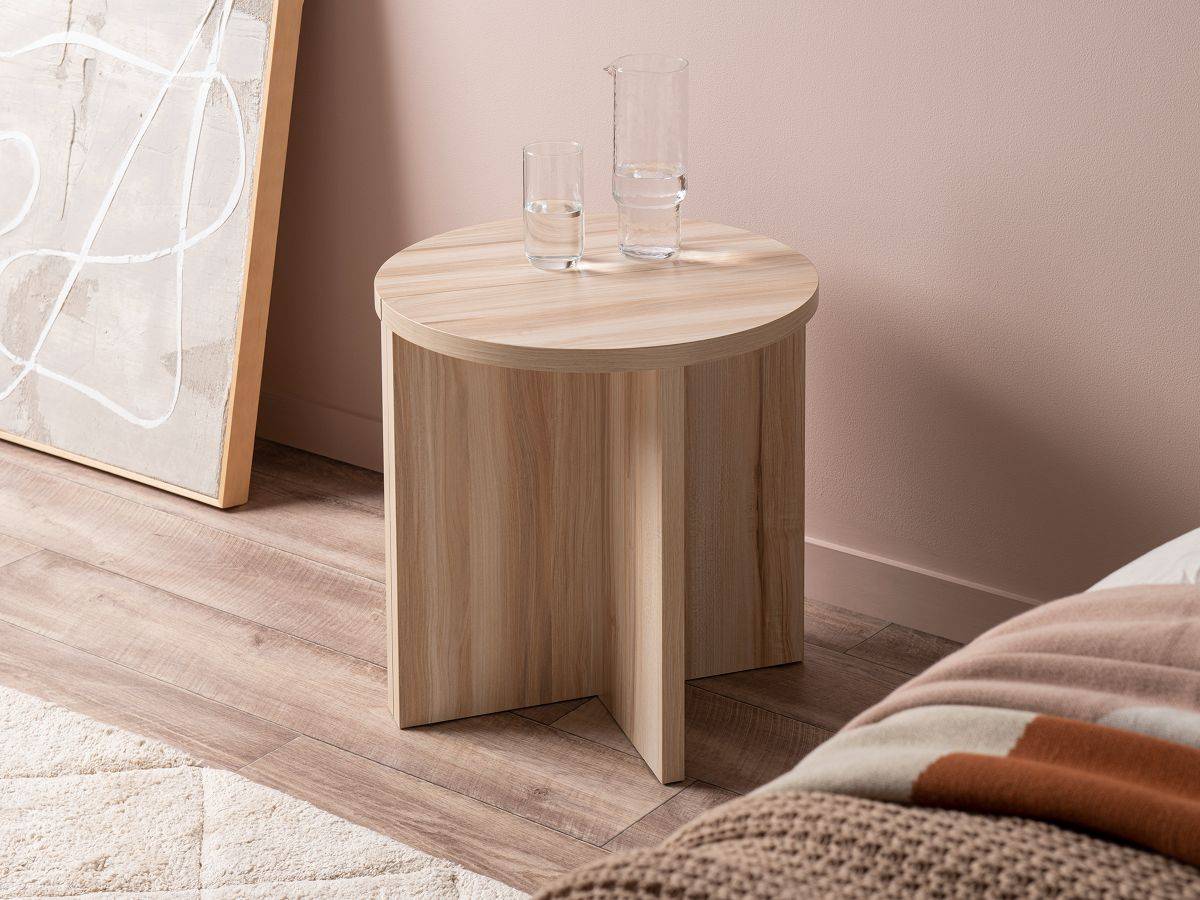 The different bedside table styles
Once you have decided where you plan to house your bedside tables, it's time to consider the different styles of bedside tables out there.

For example, what size of bedside table are you after? Bedside tables range in sizes from nightstands to bedside cabinets.

A nightstand is simply a small stand to hold the basic accessories. These accessories are generally a lamp and a small clock. Keep in mind that some nightstands are so small they won't even hold a book.

The next size up is a side table. These are often plain in design but often a little bit more functional than a nightstand. A side table normally features a top shelf, without any draws built into the bedside table frame.

Therefore, it can hold the basics – reading glasses, a book, lamp and clock and that's about it. This style of bedside table also wouldn't look out of place in any other room in the house, which is a good option if you plan for the table to have multiple uses. (You could always move it to the living room and use it as a table to hold your coffee mug and remote control when not in use in the guest bedroom!)
If you're wanting a bit more storage space within your bedside table, then perhaps consider one that has shelves or drawers. Two or three bedside drawers can hold most of the essentials you need by your bed at night, while shelves are a good option if you want to show off an ornament to match your room, or create a space to add a plant for a touch of greenery.

If space is limited, perhaps a bedside cabinet might be the right fit for your bedroom, allowing you to eliminate the need for bedside tables altogether. And you could always incorporate the cabinet as your bedside table, giving it a dual use.

This will enable you to store larger items such as clothes, while being able to use the top surface of the cabinet as a place to put your go-to items you might need through the night – such as a glass of water.

Bedside cabinets often work well paired with beds that are raised off the floor, as they are taller in height.
Pictured above: Canyon Two Drawer Bedside Table
Think about what your bedside table needs to hold
One of the great benefits of having bedside tables framing your bed is that it helps to anchor your bedroom to the centre of the room.

However, you shouldn't miss the opportunity to turn the design element of a bedside table into a functional piece of furniture.

For example, if you are purchasing a bedside table for your child's room, why not store their favourite toys in the drawers? Or use the shelves to place their storybooks on? It can be useful to have these items at hand when 6:30pm rolls around and you are halfway into the night time routine.

If you are seeking a sleek minimalist look, you might choose bedside tables without added storage space. This can create a clean look, drawing the eye to the bed rather than the tables.

However, if you need the extra storage, drawers under your bedside table can also help to store away some of the clutter that piles up during the day. If you want to stash the magazine you're halfway through or find a place for your watch overnight, bedside table drawers are a great way to keep these items out of sight.

Or if you'd like to use your bedside table as a space to hold your family photos, why not purchase bedside tables with shelves? This will allow you to house your favourite framed photos on a shelf beneath the main table surface, freeing up the area for a lamp while also giving a chance to display your family pics.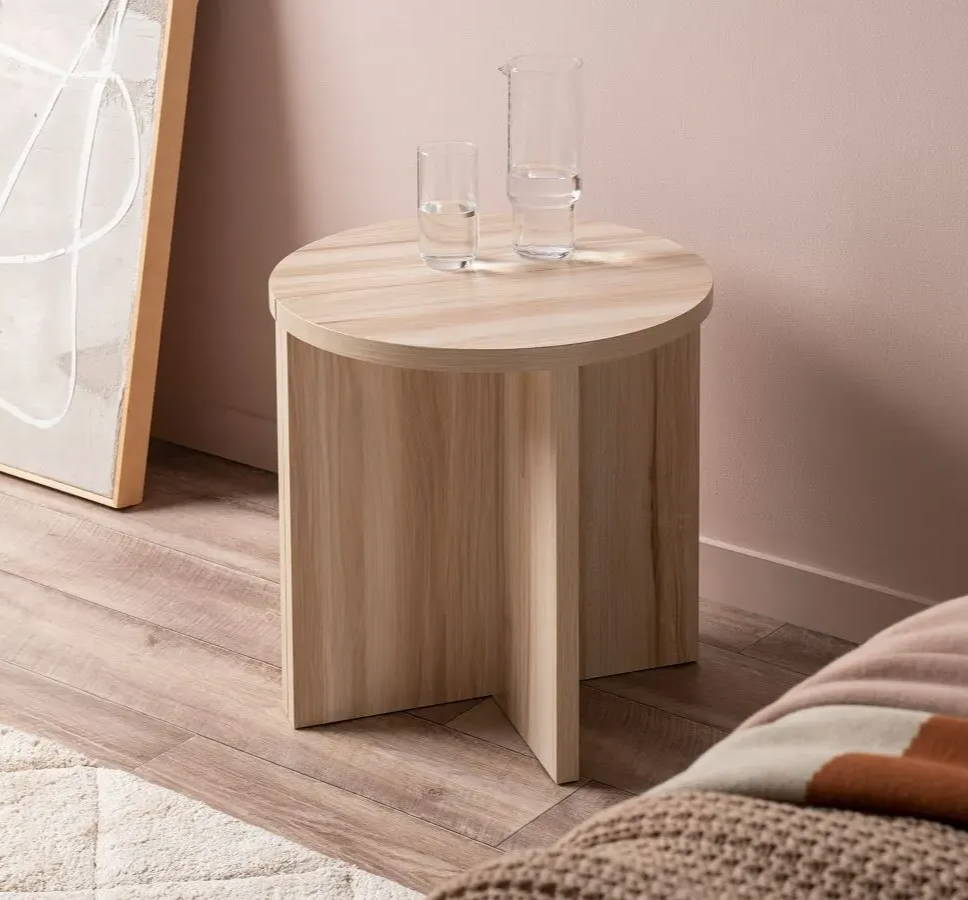 How to style your bedside tables
When considering how to style your bedside tables, the first thing to consider is their size. For example, it's more aesthetically pleasing to the eye to have bedside tables that are roughly the same height as your mattress. If the tables are much lower or much higher than the mattress, it might look a little odd.

You also probably don't want to choose a bedside table that is deeper than around 60cm (measuring out from the wall) because it might make it challenging and uncomfortable for you to get in and out of bed. Remember, if you don't need much storage then a smaller bedside table might be a better option if you want to make it easier for you to get out of bed in the mornings.

When styling your bedside tables with accessories, a top tip is that simplicity often works best. Think two or three items, rather than five or more, as otherwise the bedside table will look too crowded. Try not to place anything fragile on the bedside table – such as a precious vase of flowers, as you could knock it over in the night while you're reaching for a glass of water.Instead, opt for a stylish lamp that suits your interior design, a clock if you need an alarm in the mornings and a simple photo frame for a personal touch.

When thinking about the layout of your bedroom, you might immediately assume you need your bedside tables to match as this is the most popular style. However, they don't have to! If you find two different tables but they pair well together, then why not use them for a more eclectic look?

You could always use two of the same bedside lamps to match the bedside tables together creating an overall uniform feel.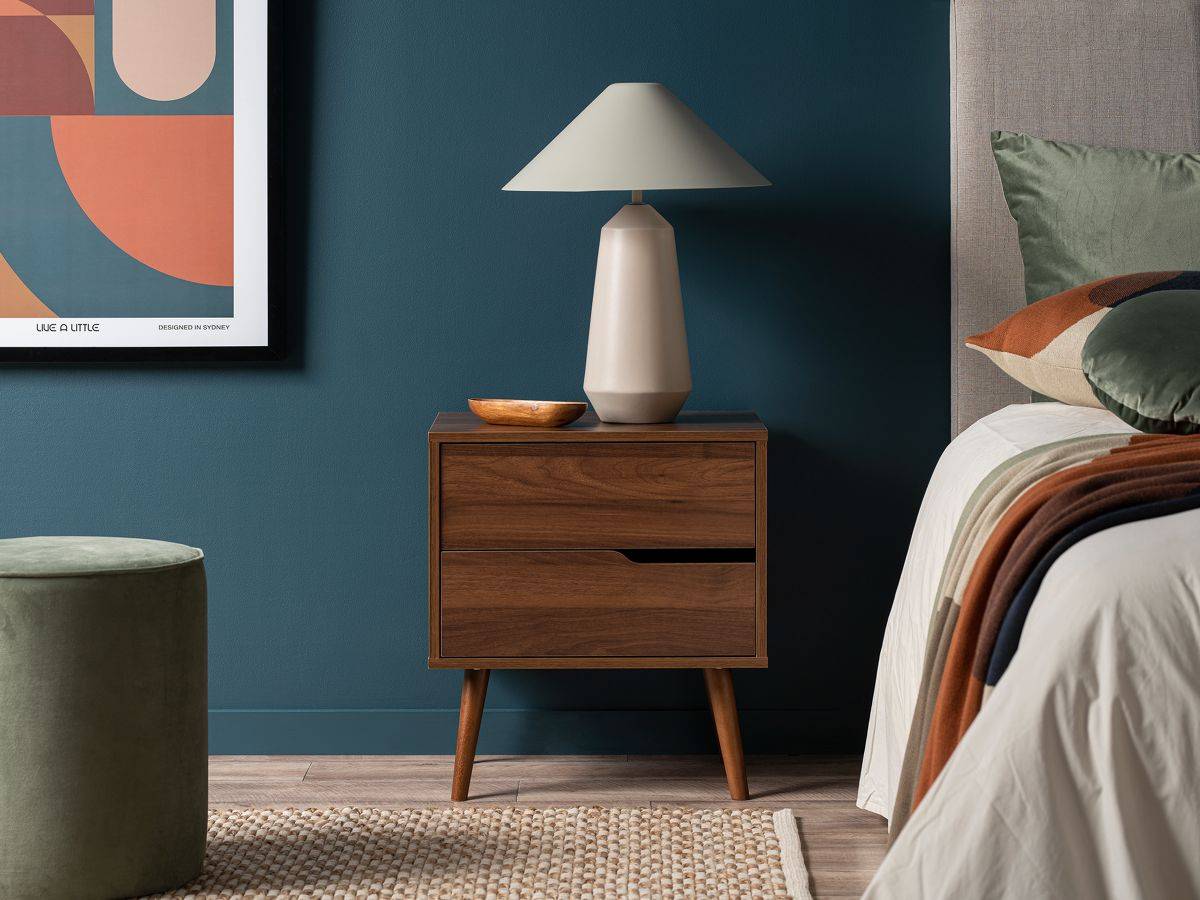 Example of how to mix and match your bedside tables. Image features the Edmond Beside Table.
Think about your overall colour scheme and style
The last – but certainly not least – thing you need to consider is the overall interior design of your bedroom and home. What is the colour scheme?

If you are embracing a beach-style theme, why not choose bedside tables that have a whitewash paint? This look works well with a casual beach or eclectic vintage style. If you are going for neutral tones, then perhaps a wooden bedside table with white elements might blend in seamlessly with your overall design. Don't be afraid to experiment with your colours either. If you have a grey bedspread and lounge in your bedroom, you could choose a coloured bed frame and bedside tables to add some brightness to the room.

Think about your overall style aesthetic for the room too. What kind of look are you going for? If you want an industrial look, you could choose bedside tables with wrought iron elements and then style the table with dark brown leather picture frames. If minimalism is more your style, perhaps embrace a black and white colour scheme and tailor your accessories simplistically with a slim vase holding some white roses for an added touch of elegance. Feel like embracing a modern look? Invest in some stylish lamps to place on your bedside tables to make a statement and frame your bed.

Vintage décor is all the rage at the moment too. If this look reflects your personality, you could pair a wooden bedside table with some op-shop finds and have fun creating a whimsical style of yesteryear. How about Scandinavian style? The key to this look is to keep things simple, modern and functional. For example, perhaps consider installing lamps that attach to the wall above your bedside table. Not only will these be easy to access from your bed, but it frees up space on your bedside table to place ornaments and ties in nicely with the Scandinavian ethos.

Whatever your style, colour scheme and interior design of your home and bedroom, there are bound to be bedside tables that match. If you are still unsure where to start, consider the style of your bed and work from there.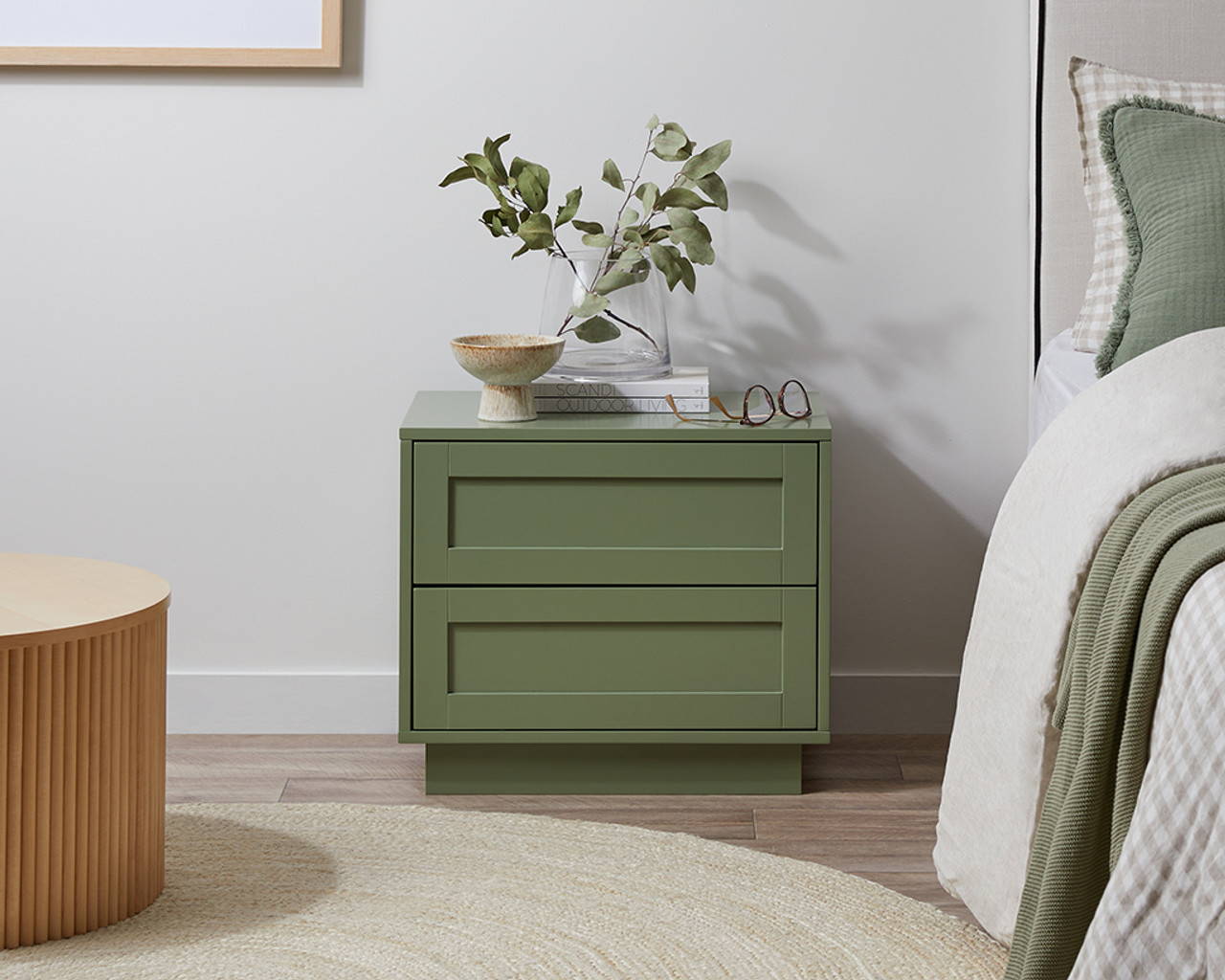 Main points to remember when choosing the perfect bedside tables for your space
When choosing your bedside tables, feel free to use this checklist below to ensure you purchase the right ones to suit your home.
1. Is the bedside table roughly the same height as the mattress?
2. Is the bedside table no more than 60cm deep?
3. What lamps do you plan to use, and what are the dimensions of the lamps in comparison to your bedside tables? (To ensure they fit the tabletops.)
4. What ornaments do you plan on styling the bedside tables with?
5. Do you need extra storage space? If so, consider bedside tables with drawers.
6. What will you need next to your bed at night? (For example, a glass of water, medication, clock, etc. Where do you plan to store these essentials?)
7. What colour scheme is your overall bedroom and home and will the bedside tables suit this?
8. What style/interior design look is your bedroom and home and will the bedside tables match in nicely with this aesthetic?
We hope this above checklist will help you to find the right bedside tables to suit your look.
Happy hunting for the perfect bedside tables