Your dining room chairs can really make the dining room of your home its heart, especially if your dining space is part of an open plan layout.
Many homeowners take the time to carefully consider the dining room table they plan on purchasing, but in truth the dining room chairs are just as important as the table the chairs are to tuck under.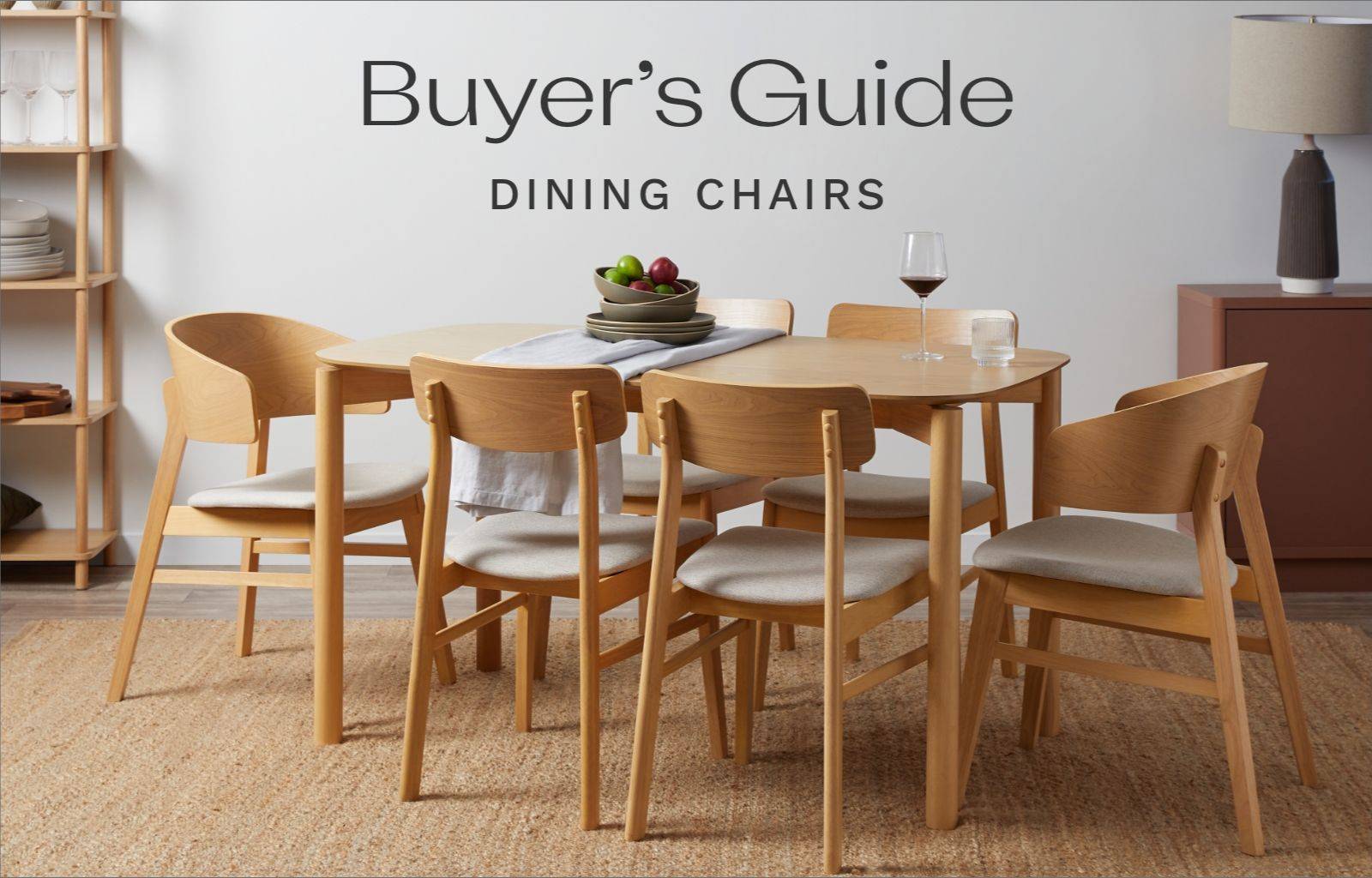 Of course, dining room chairs have a function – to provide seating for your family and friends – which means that first and foremost they need to be comfortable. However, your level of comfort is a personal choice and different for each individual. Some families are happy to dine on chairs that don't have back support, whereas others might prefer lounge-type dining room chairs.
Whatever style of dining room chairs you decide to use, it's important you consider all aspects of the chairs' uses and how you will incorporate them into the layout of your home. We've written this guide to give you a checklist when tasked with finding new dining room chairs for your home. We hope it helps you to ensure you have thought of every aspect of the perfect dining room chair for your space before you commit to making a purchase.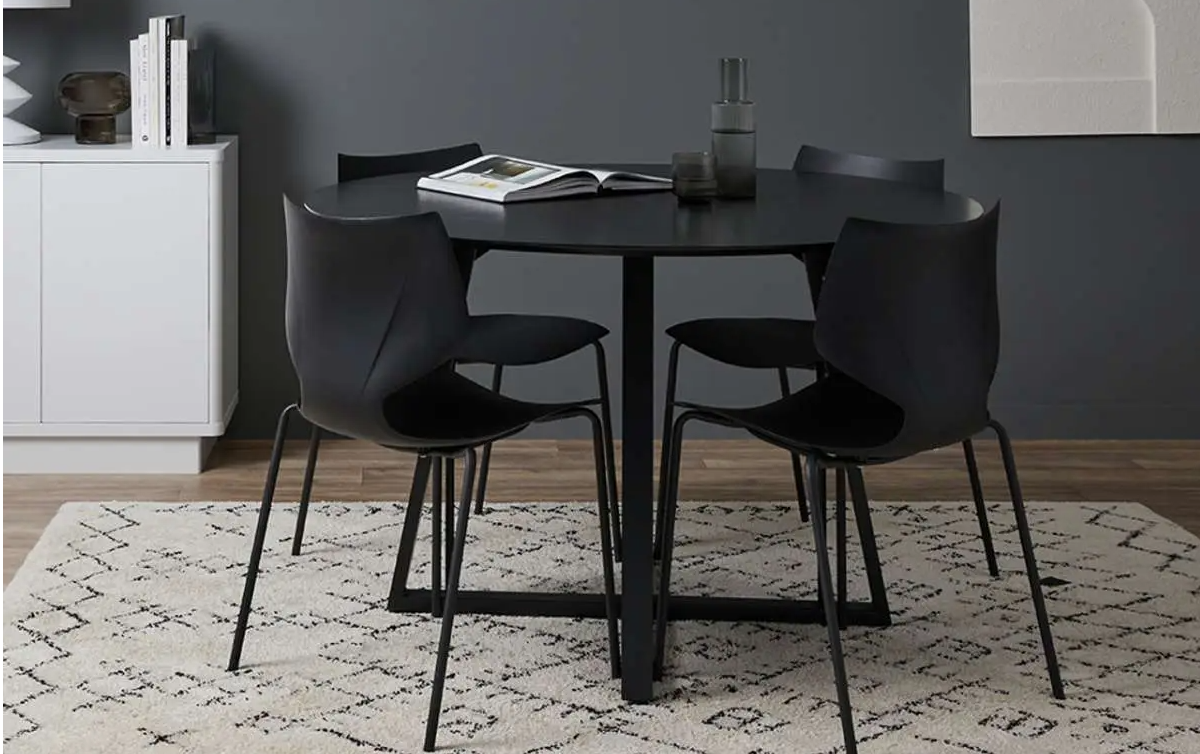 Consider the location of your dining table and chairs
If you are looking at purchasing new dining room chairs, firstly consider where you plan on placing them. If you haven't yet purchased your dining room table, you will need to do this before buying your chairs, so you know the dimensions of the table and will ensure you get chairs that fit underneath.
Once you have the dimensions of the space at hand, consider where you plan on placing your dining room table and chairs. Chances are, if you've already thought about what table you're purchasing (or already have it on order) then you have an idea about where you want to place it.
Will you house the table against a wall? Or perhaps you feel that the centre of the room would work best? Maybe you will choose the chairs and table's location based on the size of your room, or perhaps it will be chosen for the overall feel of the space. Whatever the reasoning, make sure you have a thorough understanding of where you want to place them.
Next, think about how much room the chairs have to come out from under the table. It is important the chairs tuck smoothly below the table, as this will make the area look tidy when the dining room table and chairs are not in use.
Remember that it's more comfortable for the person using the chair to have enough room to easily get in and out of the table without scraping their knees or banging their hips on the furniture. If you feel there might not be enough space for your friends and family to comfortably sit down and get up, consider an alternative dining room chairs and table combination.
Think about the height of your chairs
Once you know where you are going to place your dining room table and chairs, think about the chair height you need.
As a general rule, the standard height for a chair is approximately 47cm and the average height for a table is around 76cm.
For the utmost comfort, it's best to have a space of 30cm between the bottom of the table and the top of the chair. This will allow the person using it to have enough space to manoeuvre in and out of the seat.
Also carefully consider your dining room table's design. If there is a downward edge to your table, make sure you measure from the bottom of that, as this will be the closest point to the seat of your chair. If you miss this measurement you could end up with bruised knees!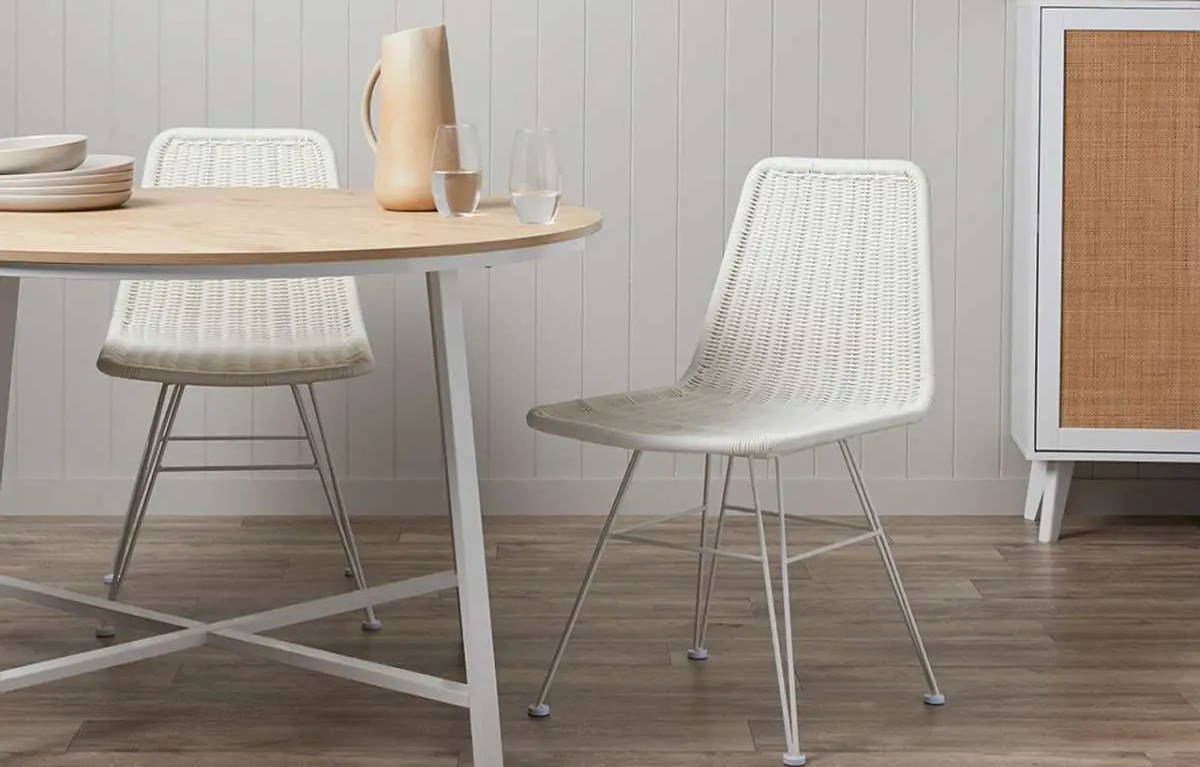 Consider how many dining room chairs you'll need
Are you someone who likes to entertain frequently? Do you have a big family? Then you might need eight or more chairs around your table. Or are you a couple without any children who like to eat in front of the television most nights? Then you possibly only need a table with four chairs. Be honest about how frequently you will use your dining room table and buy the right number of chairs to cater for your family and guests.

Remember that it's best to furnish your home for everyday use, rather than the one-off party you hold at Christmas. If you only have a large number of guests around for dinner twice a year, a 12 seater dining room table might take up a lot of space you can't afford to lose. The size of your table may dictate how many chairs you can comfortably place around its edge. As a rule of thumb, leave 60cm (24 inches) in between each chair for a comfortable space. This will allow you the room to squeeze in extra chairs for special occasions, but the gap will look pleasing to the eye for everyday use.
Here are some approximate measurements for square or rectangle dining room chair and table combinations:

- A 183cm (72 inches) long table fits six people.
- A 244cm (96 inches) long table fits eight people.
- A 305cm (120 inches) long table fits ten people.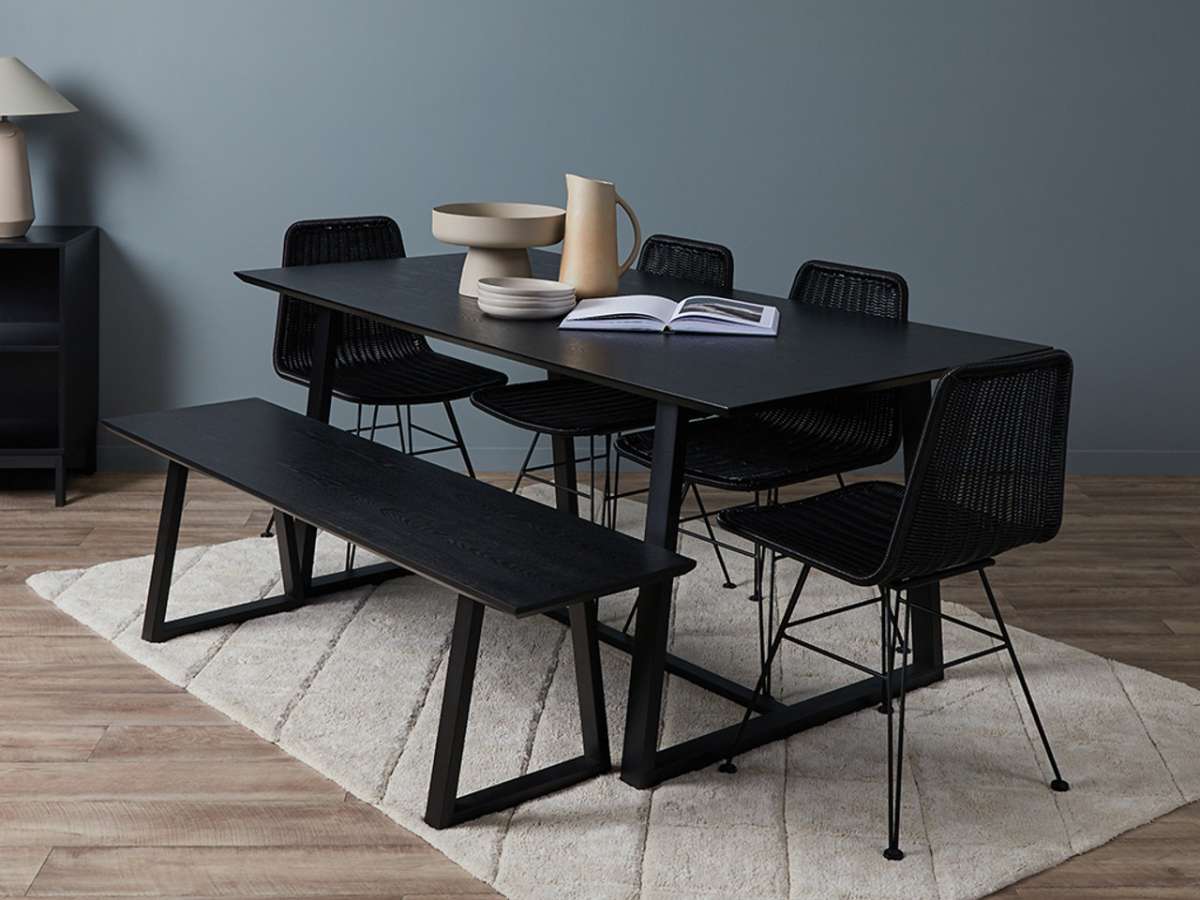 Finding the most practical dining room chairs for your needs
Once you know how many dining room chairs you'll need for your space, it's time to consider what type of dining room chair will work best in your home.

If you have young children, you might want to choose a chair that is easy to clean. This could mean opting for dining room chairs that aren't upholstered because they will be easy to wipe down if there are any spills. A chair that isn't upholstered is often a good idea if you are short of room in your dining area because they are often narrower than traditional upholstered chairs.

However, if you entertain a lot and often have guests sitting at your dining room table for hours on end then you may want to choose upholstered chairs as they are often softer than other styles and therefore more comfortable on the bum. If you find a style of dining room chair you're in love with and it has arms, make sure its dimensions will work with your table. Specifically, there should be approximately 18cm (7 inches) between the top of the arm and the bottom edge of the table. This will allow for guests to easily rest their arms on the chair without feeling cramped.
Short on space? There are different design options to suit every dining area
If you have a small dining area to furnish, get creative with the space and consider contemporary styles that are adaptable to smaller areas. For example, you could purchase some bench seats which allow you to seat more people on them than individual seating arrangements do. Or you could purchase low stools that easily store underneath the table and out of sight when they aren't in use.
You might also want to think about moveability of your chairs, if you plan to shift them around your dining room. So if you are thinking of purchasing a bench seat that you plan to push up against a wall, make sure it is a light weight bench that can be easily moved. If you are wanting to buy ten chairs but only plan on using six on a daily basis, you might want to consider purchasing chairs that are easily stackable so you can store them when they're not in use. In this instance, chairs that aren't upholstered might be your best option, as they are often easier to stack.

Take the time to also consider the type of back support you want your dining room chairs to have. Would you and your family be happy sitting on stools without back support? Or do you tend to lounge at the table and chat for an hour after dinner? If the latter, it might be more appropriate to choose an occasional chair with ample back support.
How to choose the right chair colours to suit your home
Once you have chosen the style of dining room chair you want, it is time to think about the colours and materials of the chairs. If you are choosing an upholstered chair, you will want to think about the colour of the fabric to make sure it matches the décor of your home. If you are furnishing a brightly coloured room, you might want to choose a neutral coloured chair, so the colours don't clash. Or if the room is overwhelming white, why not choose a light or dark grey to compliment the neutral tones?
You could dare to be different and choose different style chairs to seat around your dining room table. The key to doing this is by selecting chairs that don't match but which still complement each other nicely. For example, you could choose a wooden style chair that isn't upholstered and then pair it with another wooden chair that is upholstered. Although the chairs being either upholstered or not creates a contrast, selecting two chairs made from the same type of wood will keep the look consistent.

You could even select some occasional chairs with high back support to place around your table for everyday use, and then add a few low stools which can be stacked and stored, ready to be pulled out and added to the table when you are entertaining. By selecting two types of different chairs that are made from similar materials, you'll keep the room looking aesthetically pleasing even when catering for bigger numbers.
Think about your overall colour scheme and style
When purchasing new furniture for your home – whether dining room chairs or another piece – it's important to think about the overall design feel of your home. This includes considering the colour schemes of different rooms and the styles of your existing furniture, so you can purchase dining room chairs that tie in nicely with your overall décor.

Don't be afraid to inject some of your personality into your interior design. This could be with a pop of bright colours or incorporating a minimalist style, or by adding your favourite ornaments to the centrepiece on your dining room tables. Remember that the dining room is where you will often spend many evenings enjoying your friends' and family's company, so it needs to feel inviting.

If you have an open plan dining space to furnish, it can be easy to think that all your kitchen and lounge room furniture needs to match your dining room furniture. However, this isn't necessarily the case, and in fact this type of interior design – where everything is matching – can sometimes look a little flat and dull.

Instead, choose dining room furniture that ties in nicely with the rest of the furniture in the open plan area, but doesn't necessarily match it completely. For example, you could have bar stools in different (yet complementary) colours to your dining chairs. However, the fabric might be made from similar material, such as velvet or leather. Therefore, although the furniture items look different, they will coordinate with each other giving you an overall well-designed feel.
We hope this guide to purchasing the best dining room chairs to suit your home has helped you in deciding what style will work best in your space. We know purchasing furniture is a personal choice and can sometimes feel rather overwhelming when you're trying to picture every item in your space before you have the furniture in front of you. That is why we are here to help guide you through the process.

If you are still feeling stuck on what dining room chairs to purchase, don't hesitate to get in contact with our friendly team today, and we can assist you on making the right choice for your home.
Resources:
https://www.ballarddesigns.com/howtodecorate/2017/11/how-to-pick-the-right-dining-chair/