Are you searching for the perfect TV unit for your home? It can be difficult deciding which one will suit your space but don't worry – we have you covered. In this article, we will take you through how to choose the best space for your entertainment unit, what you should put inside it, what colour scheme will suit your décor and how to make your TV unit feel like it is the right match for your home. Perhaps you have recently moved into a new home, or maybe you just want to give your space a refresh. Whatever the reason, we will ensure this guide will help you to find the right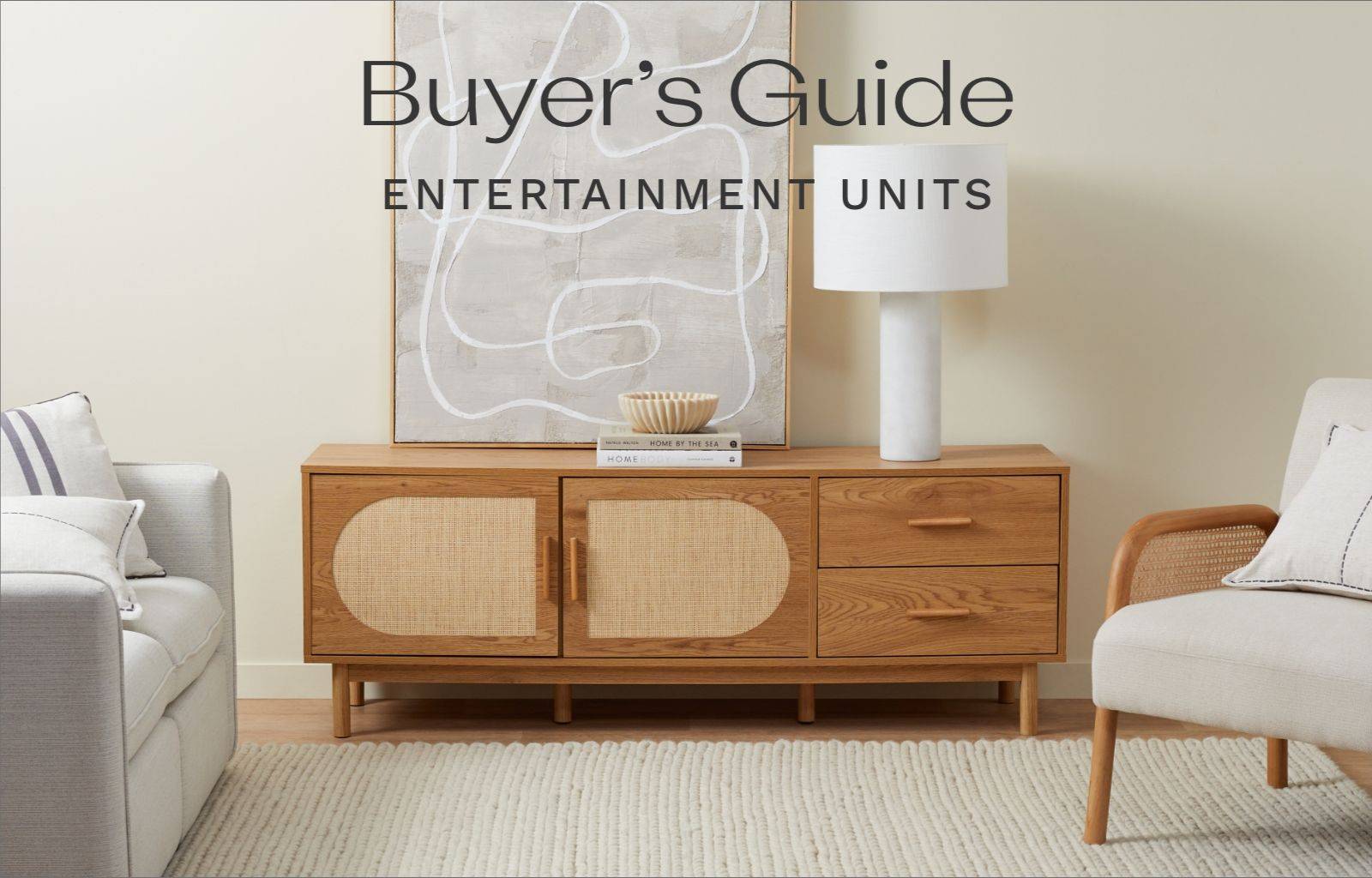 Consider the location of your entertainment unit
Before you begin browsing what entertainment units you would like to have in your home, it is important to consider where you are going to place it.

Traditionally, an entertainment unit is placed in the lounge room as a home for your TV to rest upon. However, these days, your entertainment unit can be placed in many different areas of the house – including a home entertainment room, playroom or bedroom.

You can choose to use your entertainment unit as a home for your TV, but you can also style it in multiple other ways which don't involve a telly. For example, you can have the entertainment unit in the lounge room but rather than placing a TV on top of it, you could style it with small vases holding fresh flowers. Or perhaps you'd like to create a centrepiece for your family photos, using your new entertainment unit as the base.

Another option is to keep your entertainment unit minimalist, without placing anything on top of it and instead simply using it for storage. To draw the eye to the entertainment unit, you could hang a large artwork above to emphasise the space. And of course, if you do wish to go the more traditional route but with a modern twist, you could always style your entertainment unit with your household objects and then mount your television to the wall in the space above it. Or if you're planning on placing it in the playroom, why not use it to store toys and then mount the TV above, out of reach from little hands?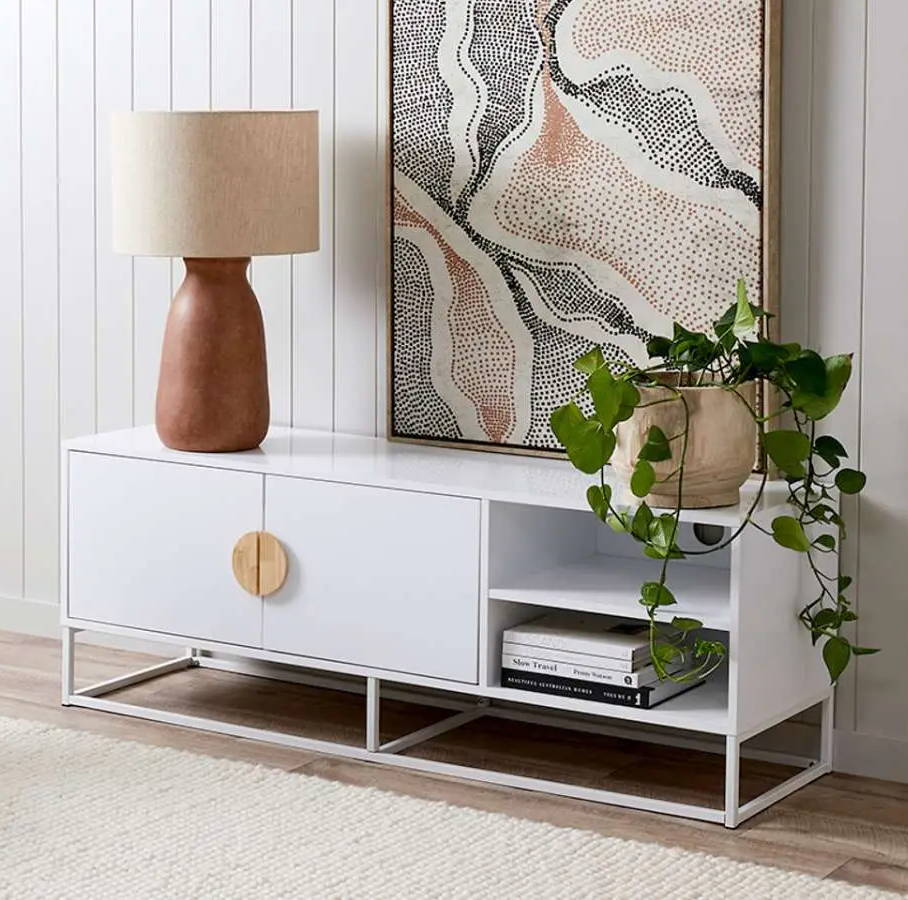 Consider the size of your chosen room
You will also want to ensure the size of the entertainment unit matches the size of the space. For example, if you are furnishing a large room and want the entertainment unit to be a centrepiece, then a larger unit might be the way to go. But if you are adding the unit to a room that is already quite cluttered, perhaps choose a more simplistic design with smaller dimensions, so it doesn't seem as though it is taking up too much space.
This type of unit will probably be in the background – rather than the foreground – so make sure you purchase the right entertainment unit accordingly.

Think about the layout of your room too. Do you plan on changing the configuration of the furniture to fit in the entertainment unit? If so, do you have limited depth or height for the area the unit plans to be placed in? Keep this in mind when ordering your entertainment unit.

Once you have decided on where in the house you plan to place the entertainment unit, it's time to measure the space. Take the time to measure every dimension you need, including height, width and length. This will ensure you order an entertainment unit with the right measurements for your room.

And one last note on design and dimensions - remember that an over-sized television on a smaller entertainment unit can sometimes look a little odd too, so consider how the size of your television correlates to the size of the entertainment unit you'd like to order.
What does your TV unit need to hold?
Now you have decided where in your home you plan to place your entertainment unit, it's time to consider what you plan for the TV unit to hold.

If you are placing the entertainment unit in the home theatre room, for example, then you will probably want to place entertainment-related equipment inside it. If you have a soundbar for your TV – an all-in-one speaker setup to deliver surround sound – then you need to ensure your new entertainment unit will hold it. If you or your children are frequent gamers, you probably will also want to be able to place gaming consoles in an area you can easily reach them.

Playstations and other entertainment equipment can sometimes ruin the design aesthetic if they are left out on top of the entertainment unit, so ensure you measure all the equipment you want your unit to hold to guarantee it will fit it all. However, some people like to be able to see what's in their entertainment units at all time, for easy access and as part of your furniture design. If this is you, then consider purchasing a unit that is open and comes without any doors or drawers. This style will suit a contemporary and minimalist home as the lack of doors on the entertainment unit suits this open-spaced living.

Although if you are the kind of person who'd rather hide their clutter, then perhaps an entertainment unit that can be shut off with a door is more preferable. Closed drawers are also great for creating extra storage space and can be useful for holding items like DVDs and remote controllers.

Mocka TV units do not have specific weight limits, but they are built to hold most standard TVs and accessories. If you have a massive TV that weighs a huge amount, consider getting it mounted to the wall by a professional. Not only will this be safer – as a secure mount will stop it from falling down on top of anyone – but it will also take the pressure off the home entertainment unit.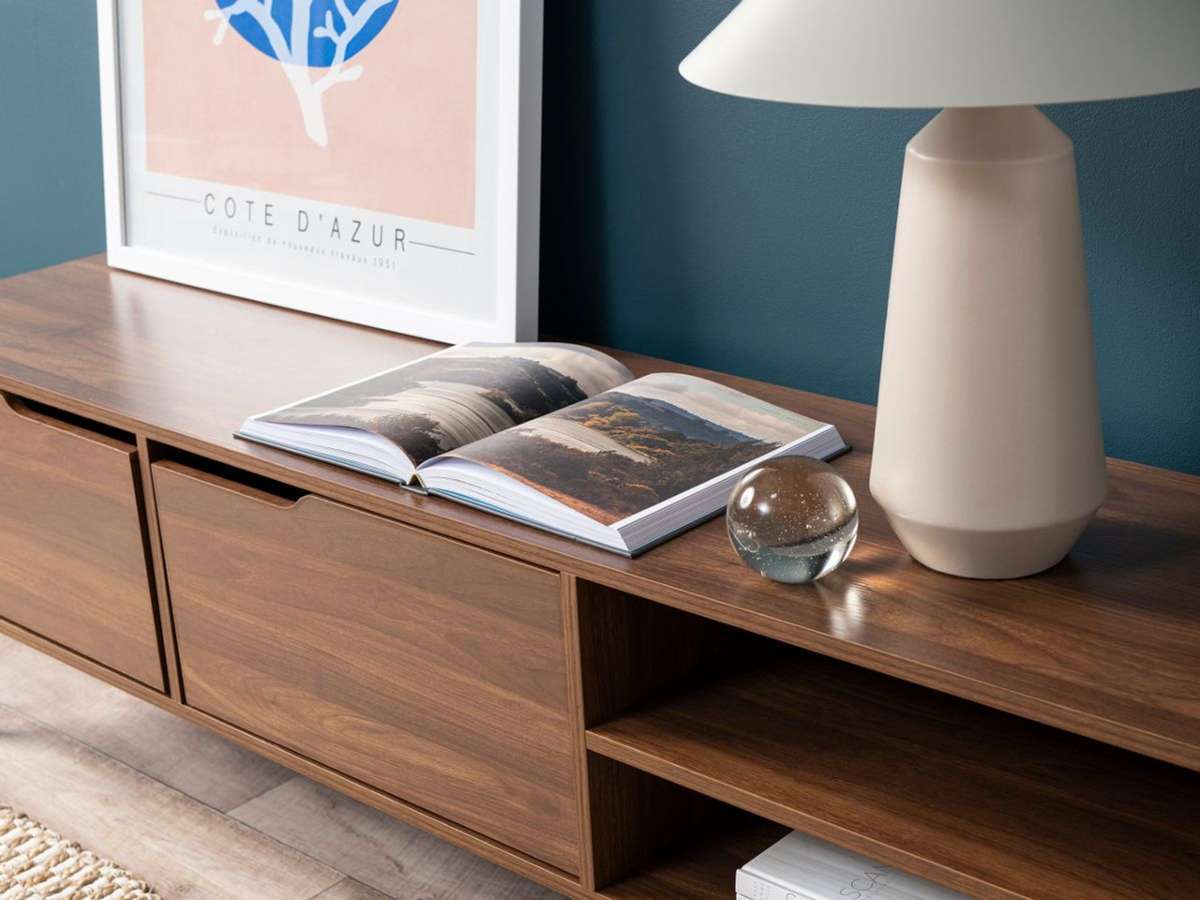 While you're at it – you might want to consider whether you plan on mounting your television unit to the wall. This is a must if you have toddlers and babies in your home, as they could potentially climb up onto the unit and pull it over – something you never want to happen. It's important to remember the safety elements when ordering furniture for your home.
Do you have a particular style or colour scheme you are trying to match?
Once you have decided on where to place your entertainment unit, what you intend for it to hold, it's time to consider the style and colour of the TV unit.

The lowline style of entertainment unit is very popular at the moment because they are stylish and make a statement while allowing you to hide away unsightly cables easily. These entertainment units are perfect for smaller spaces because they are streamlined and the low profile of the furniture doesn't clutter the room.

If you are searching for a more timeless look then choose white for your entertainment unit. Keep the design simple and sleek, allowing the decorative home elements that you choose to style your unit with to pop. White is a fresh colour and works well in brightening any space – whether it's your living room or your bedroom.

Think about the natural light that comes into the room you are furnishing, as if you have a dark space then it might be best to stick with lighter hues to brighten the area. However, if you are working with a bright space then you might feel like adding in some darker wood colours to anchor the room.
You can also pair white with wood to give your entertainment unit an extra design feature. For example, dark wood can give a retro feel to your space, while a lighter wood colour paired with white is more of a classic style.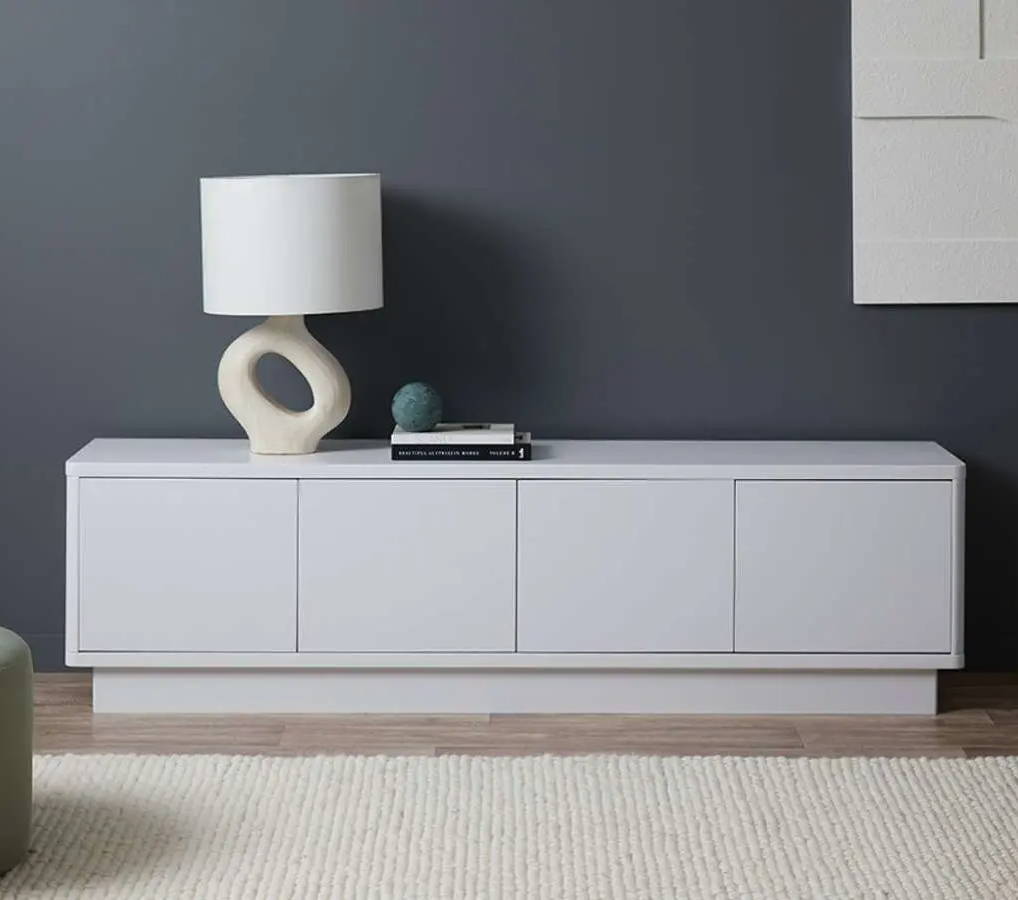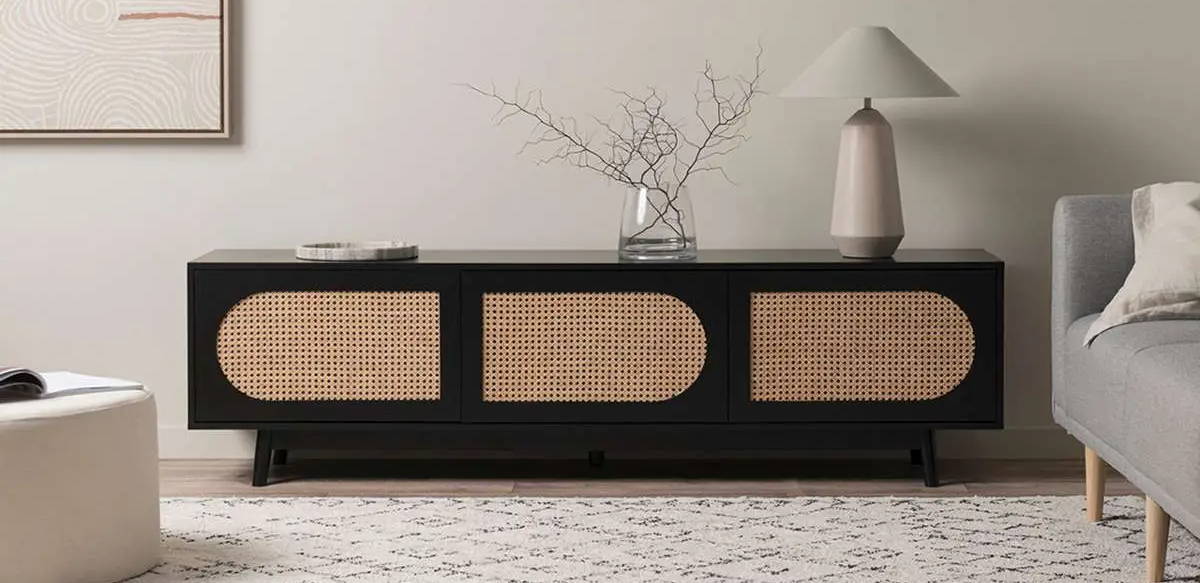 Wood elements on your entertainment units help to inject a bit of texture and character into your space. And if you love the wood effect, you might want to consider purchasing an entertainment unit that is entirely made from wood. A homage to the past, a wooden entertainment unit looks modern while touching on the heyday of the '50s and '70s. Wood can create warmth in a space and often this look won't date.
While reflecting on the style of entertainment unit you're after, you might want to consider the legs of the unit, as well as the body. The industrial look might be more your style, in which case it'd be an option to choose a black powder-coated frame for the legs of your unit. If a contemporary look is more your style, why not opt for legs that angle out to the sides, creating a modern feel. If you are more of a traditionalist, then perhaps square legs would suit your home better.

Whatever your style, remember that once someone is sitting down on the couch in front of your entertainment unit, they will be able to see the legs of the unit more closely, so it's important that they match the design aesthetic of your home.

Remember to keep in mind the style and colour scheme of your entire home so that your new television unit blends in seamlessly to the interior design elements you already have.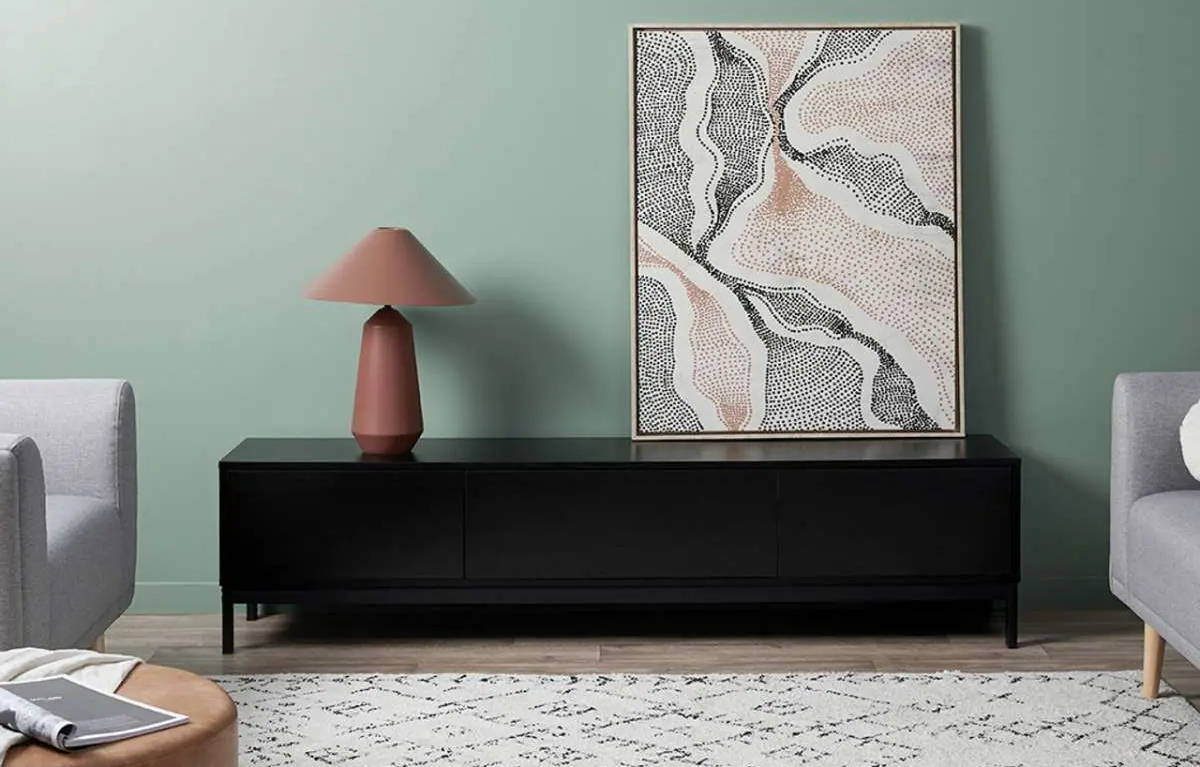 Remember - style your entertainment unit in a way that reflects you
Like with any element of your home, it's important you style your entertainment unit in a way that reflects you, and your family's, personality.

If you're into funky design, why not hang some bright prints above your entertainment unit? Or if your family are book nerds, why not style the unit by placing magazines and books on it, housed between some interesting bookends?

If you have a green thumb, consider purchasing some indoor plants to place on your new entertainment unit. Or if you're a frequent traveller to faraway places, why not consider bringing home some new souvenirs and placing them on your TV cabinet?

Sure, you might want to stay on top of design trends, but the most important thing is that you feel comfortable in the space. This means ensuring it emphasises all the things you love most and is styled in a way that reflects this.
Choose other furniture pieces to match your entertainment unit
If you are thinking of revamping the overall look of a room in your home – or perhaps your whole house together – why not consider purchasing some other pieces of furniture to match your new entertainment unit?
Perhaps a coffee table or console table would work well in your lounge room along with your entertainment unit? Or if you are purchasing the unit to place in your bedroom, why not think about pairing it with matching bedside tables or a new tallboy?

Or if you are styling your children's playroom, why not consider some kids' tables and chairs or preschool furniture to match the entertainment unit?
It is worth investing some time into finding the right entertainment unit for your home. Research different styles and colours and consider how they will work in your space. Consider what you plan to use the entertainment unit for and where you want to place it. Most importantly, choose an entertainment unit that brings something new to your space, whether it's to make a statement piece or simply provide a home for a new TV.

Remember – the right entertainment unit can effectively draw attention away from the ugly blackness of a TV, creating a centrepiece while adding some design flair to your space.
Need a hand in choosing the right unit for you?
Are you still struggling to choose the right entertainment unit for your space? Get in touch with our friendly team today and we can have a chat about what might work for your home. Our team of professionals have a vast array of design experience and are on hand to answer any furniture-related question you might have.